If you've experienced a blackout before, you know exactly how it feels like to sit in the dark: wondering, waiting, hoping, and eventually dreading the present moment. Uncertainty eats at you, followed by early stage panic spreading firmly into view.
Disaster struck yesterday at 11.50am GMT – tech giant Google suffered an outage of services that lasted for over an hour (according to DownDetector, though other reports placed it around 45 mins).
A key concern is that Google's automated systems (which are deployed to monitor such outages) failed to detect any issues until the outage had reached the 30 min mark. These included Gmail, Google Calendar and YouTube – spanning across the entire Google Suite.
The outage was eventually attributed to Google's authentication system – specifically an internal storage quota issue. Simply put, the authentication system ran out of storage space. Google's systems were supposed to automatically assign more space, but failed to do so, leading to a critical system crash.

Users who were already logged in at the time the outage began could still use services. (Once you're logged in, authentication services aren't accessed again until you log out)
Google Suite (including Drive, Docs, Sheets and Slides), Chat, Meet – everything was still working, but only for people already authenticated.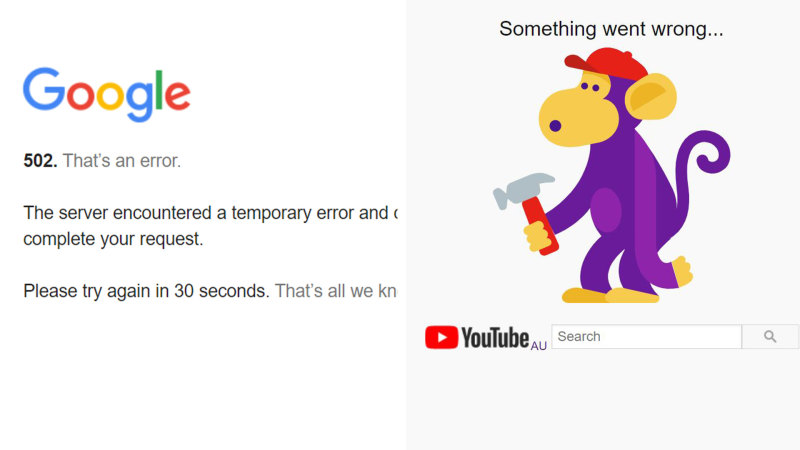 YouTube and the Google search (neither requiring authentication to use) were still available, as well Google Docs provided documents were synced offline (with no online features of course).
Third party services integrated with Google were by extension also affected (including Slack, a chat application). Those who had opted to create a separate Slack account were unaffected. (The 2 minutes it takes to create a dedicated platform account might seem worth it right about now)
Smart home devices like the Google Home, Nest thermostats and smoke alarms also were affected. Lights were unable to be turned on, parents no longer had digital eyes on their sleeping babies, security systems rendered blind, everything that relied on integration with Google Assistant became absolutely unusable.
With smart devices gaining in popularity, this event is a stark reminder that buy-in can lead to a very real feeling of powerlessness. The 'smarter' your home is, the higher the panic potential based on how critical those technologies are to your safety and security.
It doesn't matter how convenient or impressive the technology if all it takes is the weakest link to bring the entire ecosystem to a grinding halt.
The main takeaway?
For important documents or files, always create an offline backup version available on hand for any presentations, events or submissions (on USB, phone, SD card, external hard drive)
Don't buy in to a 'smart' ecosystem without understanding the risks. The 'smarter' the home, the dumber that decision may seem in retrospect when it all stops working.
---
I know I said the post this week would be a follow-up guide to choosing the best VPN, however this was a bit too fresh not to bite.